A 'Suffragette' for the 21st Century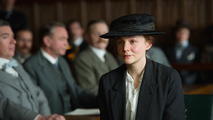 "Suffragette" (in theaters Friday) follows members of the British suffrage movement in the early 20th century as they fight for women's rights. Most importantly the right to vote.
Photo Credit: Steffan Hill / Focus Features
This story uses functionality that may not work in our app. Click here to open the story in your web browser.
[dpp]
---
EOF
the attachments to this post: