'New Kardashian': Celebs Get in Halloween Spirit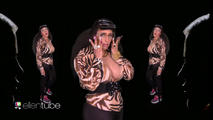 Celebrities — they're just like us. While they get dressed up almost every day of the year for concerts, galas, and award shows, dressing silly for Halloween is still a special occasion for them.
Photo Credit: The Ellen Show
This story uses functionality that may not work in our app. Click here to open the story in your web browser.
[dpp]
---
EOF
the attachments to this post: